Here to celebrate the release of my new novel are Crosby, Stills, Nash, and Young, singing the Joni Mitchell song that's quoted on the epigraph page of THE NIGHT OF THE COMET.
Take it, boys:
(The novel has nothing to do with Woodstock, by the way. Good visuals though, aren't they?)
Nice surprise this morning to find my new novel mentioned by the editors of the Baton Rouge/New Orleans Advocate newspaper. Thanks, Advocate.
Our Views: Louisiana's night skies
Just in time for the summer reading season, New Orleans novelist George Bishop's new book, "The Night of the Comet," offers a nice reminder of what it was like to look at the night sky before light pollution made star-gazing so difficult in many cities.
Bishop's novel, set in the fictional Louisiana town of Terrebonne in 1973, uses the arrival of the Comet Kohoutek as the backdrop for a family story that's about many things, including the connection between fathers and sons.
At its heart is 14-year-old Alan Broussard Jr., who gets a telescope for his birthday. The novel opens in Baton Rouge in 2000, as Alan does some stargazing near Perkins Road and thinks back to his times with his father.
Light pollution from street lamps and homes makes the night sky more difficult to see.
We hope that the night sky becomes more visible in communities across south Louisiana.
In the meantime, Bishop's novel is a testament to what we're missing.
*30*
Copyright © 2011, Capital City Press LLC • 7290 Bluebonnet Blvd., Baton Rouge, LA 70810 • All Rights Reserved
From a blog in which readers paint their fingernails to match covers of books. I think I like this.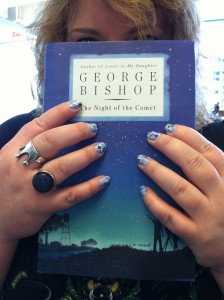 Review of THE NIGHT OF THE COMET in the Wilmington Star News (NC). Thank you, Ben Steelman.
Eloquent Novel Explores Life After the Buzz Dies Down
By Ben Steelman
Published: Sunday, July 28, 2013 at 2:00 p.m.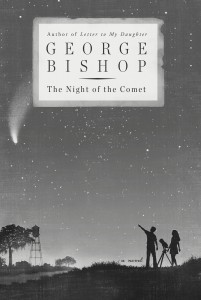 In the world of spectacular fizzles, Comet Kohoutek ranks up there with the 1962 New York Mets, Rick Perry's presidential campaign and the new "Lone Ranger" movie. Discovered in 1973, Kohoutek – named for the Czech astronomer who found it, not some ancient Egyptian god of doom – was hyped as "the Comet of the Century," destined to outshine even Halley's comet. Cults and preachers said it was an omen of Doomsday. Pink Floyd supposedly titled an early version of "Dark Side of the Moon" as "Eclipse Suite," with Kohoutek in mind.
And then … nothing. Zilch. Kohoutek was barely visible to the naked eye. (Lots of people thought they saw it.) It was a major letdown.
Now, however, Louisiana writer George Bishop uses Kohoutek as a focus in his latest novel, "Night of the Comet." Like Bishop's earlier novel, "Letter to My Daughter," it's a coming-of-age yarn from a generation or three ago.
This time, the protagonist is 14-year-old Junior Broussard, just entering high school in Terrebone, La., in the fall of 1973.
The Carpenters and Three Dog Night are all over the radio; sensitive girls (like Junior's hippie-wannabe sister, Megan) are up in their rooms playing Roberta Flack's "Killing Me Softly" over and over. Everyone's worried about the Arab oil embargo, which threatens to raise oil prices as high as $20 per barrel (Surprisingly, no one in Terrebone seems to care much about Watergate.)
For Junior's dad, however, the top story is Kohoutek, front and center. The geeky science teacher at the local high school, Alan Broussard sees the comet as a sign of renewal, as a way to recapture the magic he felt when he dreamed of becoming a fulltime researcher.
Kohoutek, he's convinced, will finally let him grab the attention of his listless freshman Earth Science students. He talks the local paper into letting him write a weekly "Groovy Science" column to spread the news. And for Junior's 14th birthday, he gives his son the ultimate present: a Celestron telescope, the best for viewing Kohoutek.
Junior, however, prefers to focus his telescope on Gabriella, the impossibly beautiful blonde girl who just moved with her family into the big house just across the bayou. Gabriella normally wouldn't notice Junior, who's not a jock and has spent his school career blending into the background. With Kohoutek in the sky, though, maybe he can tempt her to check out his 'scope.
Junior's mom, meanwhile, is also focusing on the house across the bayou. She dreams of making friends with the Martellos, that nice couple from Shreveport (word is, he's a big oilman) and breaking loose from the dreary routine of being a schoolteacher's wife. With Barbara Martello, Lydia Broussard hatches the scheme for a "Comet Ball" (to raise money for her husband's lab, of course) which would bring all the best people of Terrebone together for a glittering evening under the stars.
All of the Broussards, of course, are doomed to disappointment.
Except for one key point, "Night of the Comet" offers few surprises; we've all heard different versions of this story before. Bishop, however, proves eloquent at delineating teenaged angst and yearning. He does for acne what Herman Melville once did for whales.
He's also acute on middle-age discontent, the realization that there's no point in dreaming about what you'll do when you grow up, because you're already there, and that your life, miserable as it is, is as good as it's likely to get.
I got to speak with with the ever gracious Ben Steelman of the Wilmington Star News last week about The Night of the Comet. Here's what we talked about.

Bookmarks – Celestial Focus, but Heart on Ground
By Ben Steelman
Published: Saturday, July 27, 2013 at 12:30 a.m.
Last Modified: Friday, July 26, 2013 at 1:39 p.m.
George Bishop wasn't all that much into the space program when he was a boy. "Oh, I built models of the Apollo capsule," he recalled in a phone interview from his home in New Orleans.
Still, Bishop remembers peeking through a telescope in middle school, in his tiny Louisiana hometown, scanning the skies for Comet Kohoutek back in 1973.
"It was all in the pop culture at the time – it was hard to miss," Bishop said. "It was kind of the last gasp of the space race."
Bishop would go on to a career teaching English in a string of exotic countries, from Indonesia to Azerbaijan. In 2000, he earned a master's degree in creative writing from the University of North Carolina Wilmington.
Now, 40 years after the comet's sighting, he's made Kohoutek a character in his second novel, "Night of the Comet," to be released Tuesday by Ballantine Books.
"It's not really a book about astronomy," he said. "It's more about relationships, about fathers and sons and husbands and wives."
Bishop said he didn't set out to write a Kohoutek book. Instead, he started out with two images he couldn't get out of his head: A broken telescope, sitting in a corner, and a man in a raincoat, jumping off a roof.
"I wanted to fit those things together," he said.
Writing this novel was harder than his first, he said, because he wanted to exceed his first effort, "Letter to My Daughter," which debuted in 2010 to mixed reviews but strong sales.
"I felt like my whole career was hanging on every word I wrote," he added.
"Night of the Comet" ended up taking a year longer to finish than he'd hoped.
Bishop said he's having less trouble with his next novel, which is also set in Louisiana and falls during the U.S. Bicentennial of 1976.
Now writing full-time, Bishop isn't teaching regularly, although he did spend a month in Turkey last year under the auspices of the U.S. State Department.
And he fully credits UNCW for much of his success.
"I had been writing for years, scraps of stories from years overseas," he said. "But no one was reading them. When I got to Wilmington, for the first time, I was finally in a community of readers and writers, getting feedback and a sharp critical eye. It was like heaven."
Bishop will be returning to Wilmington in the fall, for a reading at Pomegranate Books.
No. 8 and last in our Comet a Week series, the most famous of them all: Halley's Comet.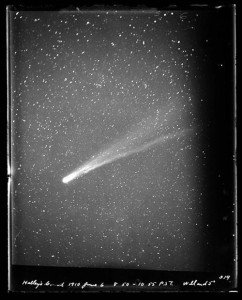 Halley's is a 76-year-period comet, named after Sir Edmund Halley, who was the first to successfully calculate a comet's orbit and predict its return. Since that 1759 apparition, astronomers have plotted Halley's regular reappearances back to 240 BCE. Its most recent apparitions were in 1910 and 1986. The next one will be in 2061.
Halley's 1910 appearance especially inflamed popular imagination. There were the usual comet panics and doomsday predictions; some astronomers warned that gases from its tail would poison life on Earth, and gas masks and anti-comet pills were sold.
The comet appeared in advertisements, songs, and on postcards. In larger cities, hotels hosted comet parties on their roofs.
And in case you're curious, here's a recording of "Halley's Comet Rag":
Diagram of Milton's Cosmology from Homer Sprague's 1883 edition of John Milton's "Paradise Lost":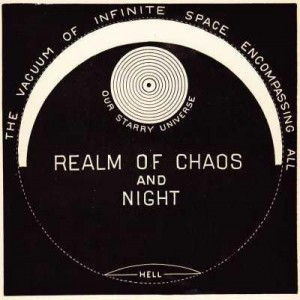 "Such place eternal justice has prepared
For those rebellious; here their prison ordained
In utter darkness, and their portion set
As far removed from God and light of heaven
As from the centre thrice to the utmost pole.
Oh, how unlike the place from whence they fell!" (p16/7).
From Unurthed.com
I don't think this is up online yet, but here's what Kirkus Reviews has to say about The Night of the Comet.
THE NIGHT OF THE COMET
by George Bishop
KIRKUS REVIEW
Filled with the kind of wistful longing that characterizes the coming-of-age novel, this latest from the talented Bishop brings stardust and domestic disillusionment to the bayous of Louisiana.
In 1973, when Junior Broussard blows out the 14 candles on his birthday cake, his wish takes the form of one word—Gabriella. Instead of her magical appearance, he receives a telescope from his father, the high school's geeky science teacher, an amateur astronomer and author of the newspaper's weekly Groovy Science column. His father has become obsessed with the sighting of the comet Kohoutek; the new telescope will provide a father-son bonding opportunity. Junior could care less and soon points his telescope across the bayou to Gabriella's mansion. As his father is involved with Kohoutek, Junior becomes fixated on the wealthy Martellos across the water. Their life is like a television show—they dress better, look better, seem happier—and he watches them like an anthropologist and a lover and wonders what will become of himself, raised in a house of small dreams and missed opportunities. His mother, Lydia, befriends Mrs. Martello, and the two hatch a plan to throw a charity ball with a comet theme. Lydia is also bewitched by the Martellos (especially husband Frank) and begins to feel she deserves so much more than science teacher Alan Broussard can offer. Their meeting years ago—the beautiful pharmacy counter girl and the new science teacher—is a story Junior begs from his parents, as if the re-telling will provide some magic to keep them together. His father becomes dangerously unhinged, his mother runs away, harboring fantasies of a life with Frank Martello, and the comet will soon appear. Junior is sure it will bring both disaster and magic to their lives.
Coming-of-age novels examine youthful revelations about the world—filled with cynicism and wonder and rearranged expectations—and the quality hinges on the honesty of the voice, the truth of the observations, the handling of innocence lost; Bishop succeeds on all these fronts.
A fine story of everyday sadness and otherworldly joys.
No. 7 in our weekly comet profile is Donati's Comet. After the Great Comet of 1811, Donati's is known as the most brilliant comet of the 19th century. I posted one image of Donati's Comet already, on May 1, but here she is again, seen above Paris in October 1858: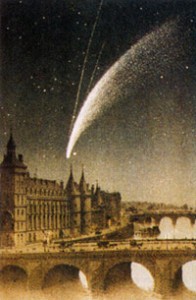 Donati's Comet was famous for its shroud-like coma. For one stretch of three weeks, the comet expelled a new coma every 4 1/2 hours, like a woman casting off a series of veils.
Here are some more images, from "An Account of Donati's Comet of 1858" (Cambridge, 1858), by George Bond, who also made the sketches: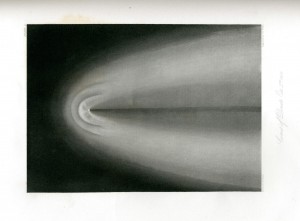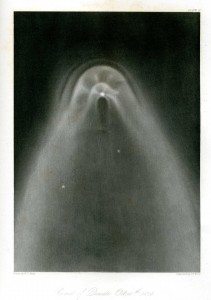 Edwin Emerson's "Comet Lore" (New York, 1910) has this to say about Donati's Comet:
"This Comet, which appeared to be charging straight down from the zenith, and had a curved tail, was observed from June 1858 to April 1859. It was seen at its brightest in the South, in Italy, Mexico and in the Far East. While it shone over the Far East there were bloody wars between the British and the risen people of India; between the British and the Chinese, who objected to having opium thrust upon them; while Japan was in the throes of revolution and civil war. In Mexico the standard of revolt against the clericals was raised by Juarez, thus plunging Mexico into civil war and war with France. Immediately after the disappearance of the Comet war broke out in Italy between the French and Italians on one side and
the Austrians on the other, ending in the bloody Battle of Solferino."
A lot to lay on a comet.
Closer to home, Senator Abraham Lincoln observed the comet from the porch of his hotel in Jonesboro, Illinois, as he prepared for a debate against Stephen Douglas–one of the historic Lincoln-Douglas debates over the future of slavery in America, in which Lincoln famously declared "A house divided against itself cannot stand."
A person of a novelistic bent might imagine that Donati's Comet helped inspire these words from Lincoln, and thus, in a roundabout way, a comet helped to bring about the end of slavery in the United States.
Here's a depiction of how Comet Ison will look at the beginning of December, when it's now projected to be at its brightest: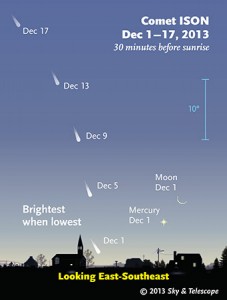 (From Sky & Telescope magazine.)
Lately, astronomers have been trimming back on their predictions for Ison as the new "comet of the century."
This, fortunately, hasn't stopped the conspiracy theorists, whose wild suspicions about Comet Ison are ricocheting around the web:
* Comet Ison is being trailed by seven UFOs. There's photographic evidence of this that NASA is desperately trying to keep from the public. Here's video of the UFOs and Ison, if you're curious.
* Ison is really the mysterious "Planet X" or "Planet Nibiru," on a collision course with the Earth.
* Ison, as it sweeps past Mars, will yank the planet from its orbit and send it crashing into the Earth, bringing an end to world as we know it.
I wouldn't worry too much about these predictions, not yet. Better, you might plan to do what I intend to do when Ison arrives:
Find a nice dark field at the edge of town, bring some friends or go alone, turn off all your electronic devices, look up, and be prepared to be astonished.