Southern Independent Booksellers Alliance in New Orleans
I was at the SIBA conference this weekend in New Orleans, but the only evidence I have is this one blurry photo of me and Gail Karwoski, an author of disaster books for children. We were on a panel together, with the irrepressible Susan Larson.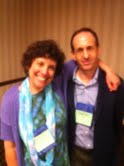 Pat Conroy got a standing ovation after his talk at the Saturday night dinner. You should've been there.