I've rigged up this nifty scope to the top of my car for some mobile stargazing. On the lookout for ISON now. I'll let you know what I see.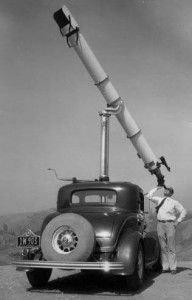 (From Will Amato's FB page.)
Despite dire predictions to the contrary, recent reports say that Comet ISON is still "doing just fine" and "holding it together."
I think I'm growing to love this little comet.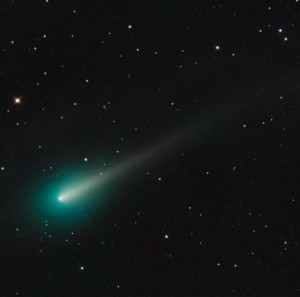 Latest Images of Comet ISON Show it is 'Doing Just Fine'
Universe Today
October 11, 2013
As we reported yesterday, the latest data on Comet ISON indicates there is some encouraging news as far as the Comet surviving perihelion, its closest approach to the Sun. While some are all doom and gloom about the potential for Comet ISON putting on a good show, these latest images indicate that as of now, this comet is alive and doing well!
"We really do not know what comet ISON is going to do when it gets near the Sun," wrote astronomer Karl Battams of the Comet ISON Observing Campaign website. "But what we can say for certain, right now, is that comet ISON is doing just fine! It continues to behave like a fairly typical, if somewhat smaller-than-average, Oort Cloud comet. It has given no indication that it has fragmented and while such an event can never be ruled out, we see no evidence or hint that the comet is in any imminent danger of doing so. Any reports to the contrary are just speculation."
Hubble Confirms Comet ISON Is Holding It Together
Discovery
October 17, 2013
Despite speculation to the contrary, Comet ISON is holding its own against the sun's heat, with its cometary nucleus apparently remaining as a solid mass.
New observations carried out by the Hubble Space Telescope on Oct. 9 have resolved the interplanetary traveler with a beautifully smooth coma (the dust and gas around the "head" of the comet) with a bright tail swept back.
The comet — which was discovered in September 2012 by the International Scientific Optical Network (ISON), near Kislovodsk, Russia — is believed to be a pristine cometary nucleus that has fallen from the hypothetical Oort Cloud — a reservoir of icy fragments left over from the birth of the solar system. It is reckoned that this "shell" of proto-comets is located around 1 light-year away from the sun.
As this is its first visit to the inner solar system, astronomers theorized that ISON's nucleus might fragment as it becomes heated by the sun's energy. Looking at this image, there appears to be no abnormalities in the comet's coma that would reveal fragmentation.
Interestingly, as noted by a Space Telescope Science Institute news release, a polar jet of dust projecting from ISON's nucleus seen in Hubble images taken in April is no longer visible and likely turned off.
ISON is due to make its closest pass to the sun on Nov. 28 and, should it survive the fiery encounter, the comet could become an impressive sight in nighttime and daytime skies when it makes closest approach with the Earth on Dec. 26.
English majors will likely remember No. 3 in our favorite astronomy poems, "When I Heard the Learn'd Astronomer," by Walt Whitman.
Here's a picture of the old scallawag: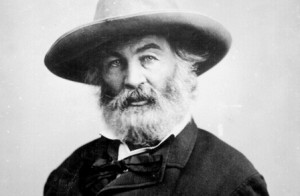 Not as pretty as Audrey Hepburn, but a fine writer. He only had formal schooling up until the age of eleven, after which he supported himself with printing and journalism. He made his name as a poet with "Leaves of Grass," a collection of poems he self-published at age 36, winning praise from Ralph Waldo Emerson, although others condemned his writing for being obscene.
He described himself thusly: "Walt Whitman, an American, one of the roughs, a kosmos, disorderly, fleshly, and sensual, no sentimentalist, no stander above men or women or apart from them, no more modest than immodest."
Little known fact: some say Walt Whitman was the original model for "Dracula" in the novel of the same name by Bram Stoker, a long-time admirer of his.
Here's the poem, from 1865:
When I Heard the Learn'd Astronomer
When I heard the learn'd astronomer,
When the proofs, the figures, were ranged in columns before me,
When I was shown the charts and diagrams, to add, divide, and
measure them,
When I sitting heard the astronomer where he lectured with much
applause in the lecture-room,
How soon unaccountable I became tired, and sick,
Till rising and gliding out I wander'd off by myself,
In the mystical moist night-air, and from time to time,
Look'd up in perfect silence at the stars.
This might be a stretch, but No. 12 in our songs with astronomical themes is "Moon River." Composed by Henry Mancini with lyrics by Johnny Mercer, it won an Academy Award for Best Original Song in the 1961 movie "Breakfast at Tiffany's," and then a Grammy in 1962.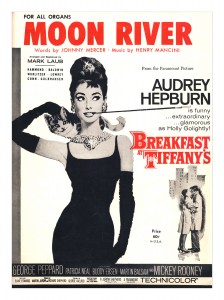 It was specially written for Audrey Hepburn to sing in "Breakfast at Tiffany's," but the song went on to be recorded by many other artists, including Andy Williams, Frank Sinatra, Barbara Streisand, Louis Armstrong, The Three Tenors, Dr. John, and R.E.M.
Here's Audrey Hepburn, as Holly Golightly, singing it with guitar while George Peppard, as Fred, looks on.
The ancient Chinese were the world's first and best astronomers. Carl Sagan dates their astronomical record-keeping back to 1500 BC. Star catalogues listed hundreds of comets over hundreds of years, and included detailed information on dates, appearance, and location of comets.
The Chinese drew up the world's first cometary atlas, too, the Mawangdui Silk, as it's called, ca. 300 BC. Here's a portion of it: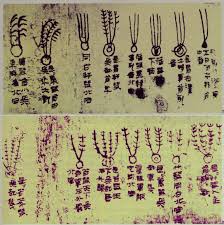 And here's one of my favorite entries from the "Record of the World's Changes," by Li Ch'un, 602-667:
"When a comet appears in the Constellation Hydra, there is war and some conspire to overthrow the emperor. Fish and salt are expensive. The emperor dies. Rice also becomes expensive. There is no emperor in the country. The people hate life and don't even want to speak of it."
"The people hate life and don't even want to speak of it." Indeed.
According to Space.com, Comet Ison, the latest "Comet of the Century," flew past Mars last Tuesday, October 1, and is headed now for the Sun.
If it survives its skitter around the Sun, it'll be visible with backyard binoculars later this month and visible to the naked eye in early December, just after sunset.
Don't listen to the naysayers who believe that Comet Ison is breaking up even now. They have no romance in their hearts.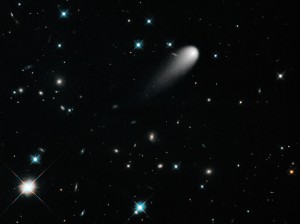 No. 2 in our series of poems with astronomical themes is the sad and sweet "To the Moon," by Giacomo Leopardi, the Italian poet of pessimism (1798-1837). This is from the collected Canti, translated by J. Galassi (2010, New York). I almost used part of this poem as an epigraph for The Night of the Comet.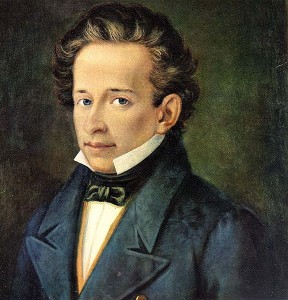 To the Moon
O graceful moon, I can remember, now
the year has turned, how, filled with anguish,
I came here to this hill to gaze at you,
and you were hanging then above those woods
the way you do now, lighting everything.
But your face was cloudy,
swimming in my eyes, due to the tears
that filled them, for my life
was torment, and it is, it doesn't change,
beloved moon of mine.
And yet it helps me, thinking back, reliving
the time of my unhappiness.
Oh in youth, when hope has a long road ahead
and the way of memory is short,
how sweet it is remembering what happened,
though it was sad, and though the pain endures!