Denise at Bouligny Tavern, uptown on Magazine Street in New Orleans, whipped up the frothiest and tastiest comet cocktail yet. Here's Denise and her drink: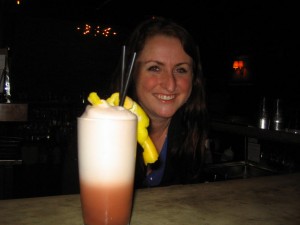 It's made with 1 oz. of Ron Zacapa dark rum, 1 oz. of ruby port, 1/2 oz. lemon juice, 1/2 oz. of simple syrup, 1 eqq white, and club soda. It tasted almost like a root beer float, only a very delicious one.
The froth represents the head of the comet, the lemon peel the tail, the white layer in the middle are clouds, and the dark ruby layer at the bottom is the New Orleans night sky.
Here's what it looks like half gone: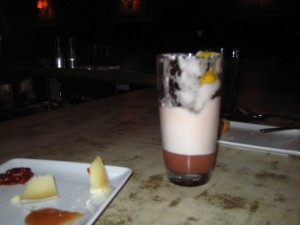 Merci beaucoup, Denise!
One of the best things about Bouligny Tavern, by the way, besides the cool, dim, retro decor, is that the bartenders spin LPs on a stereo behind the bar. Tonight they played Paul Simon's "Graceland," Donovan's "Greatest Hits," and The Beatles "Rubber Soul."