The big news in space today is that the European Space Agency's "Rosetta" spacecraft has, after a ten-year journey, finally rendezvoused with its target, Comet Churyumov-Gerasimenk.
Here's a picture of Comet C-G up close: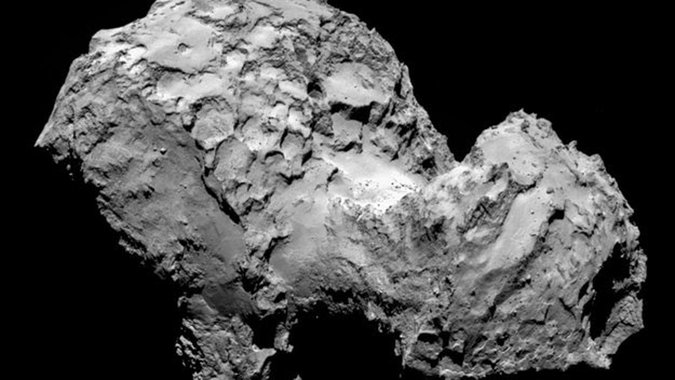 I mentioned the comet chaser in a post back in January. The New York Times has a front-page article about the Rosetta mission in the paper today.
The Times writes:
"From a distance, the blurry blob initially looked somewhat like a rubber duck. As the details came into focus, it began to bear a closer resemblance to a knob of ginger flying through space."
The comet's far enough from the sun (330 million miles) that it's still just a hunk of ice and rock. As it gets closer, the sun will heat the comet and it will begin to acquire the familiar coma and tail of a comet.
The Rosetta spacecraft will accompany Comet C-G for a year, flying right alongside it as it circles the sun.