I'm looking forward to visiting Pearl Wine Co. again next week for a tag-team reading with author Kent Wascom, whose new novel Secessia has won rave reviews.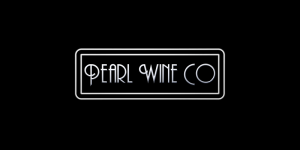 When: Wednesday, Sept. 2, 7:00 – 8:00
Where: Pearl Wine Co., 3700 Orleans Ave., New Orleans
The event's sponsored by the indefatigable Candice Huber of Tubby & Coo's Mid-City Book Shop. Free and open to the public. Wine and food available and encouraged.
Nice piece in The Hindu last week on the South India Writers' Ensemble Festival in Kerala. I get the first paragraph.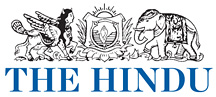 Of Flights of Fancy, Verse and Bestsellers
by S. Anandan
July 27, 2015
The Hindu
"I'm Jack Fleming, 25, a Mechanics student in New York, and I love adventures of all variety," said Rinish Muhamed, a local lad, stepping into the shoes of an imaginary character.
The scene was a writing workshop led by American author George Bishop at the South India Writers' Ensemble (SIWE) where he asked the attendees to profile an imaginary character and take on questions on the character's traits and life story.
"Craft is as important as content and I wanted them to have an elementary understanding of imagining up a character and the situations that have infused meaning into his life," said the best-selling author.
At Pampa, a hall by the Pampa river where the workshop was held, Robin S. Ngangom, English poet and academic based in Shillong, treated literary enthusiasts to some of the finest pieces of poetry from the region.
Reading Manipuri poet Thangjam Ibopishak Singh's poem, 'I want to be killed by an Indian bullet', which he had translated into English, he demonstrated the sheer power poetry from the region packs in it. When 'the five' — fire, water, air, earth, sky — come looking for the poet in order to shoot him to death for penning 'gobbledygook and drivel', the poet says he wants to be killed by an Indian bullet – a wish that cannot be granted as "we don't use guns made in India. Let alone guns, India cannot even make plastic flowers".
The poet escapes death thanks to his insistence. "It's such a wonderful poem," said P.C. Vishnunath, MLA, as the audience kept asking the poet to recite more and more poems. The last session of the day was a bit of a dampener, with the panellists, Pankaj Dubey and Preeti Shenoy, more or less agreeing that it was okay to play to the gallery and adapt to the demands of the market while Benyamin was bent on guarding the freedom of the author. On the moral questions staring the author in the face from corporate market forces, Ms. Shenoy and Mr. Dubey said regardless of the social ills brought about by a corporate entity, if would be okay to take its handholding for publishing a work if the entity were to do it as a means of social responsibility. "Only, I wouldn't allow anyone to tamper with my draft, unless for some grammatical correctness," Ms. Shenoy said.
A fitting reply to the contention was given by poet Kalpetta Narayanan at the valedictory address when he said while every age had produced its best-selling authors – citing Changampuzha Krishna Pillai as the best-selling writer of his time – it would be dangerous to woo the market as a damsel (as earlier suggested by Mr. Dubey) as she could soon turn into a yakshi .
"There's nothing wrong in creating bestsellers. But an awareness about the dialectical tension between the ethical questions and the market demands would do a world of good," he said, amid thunderous applause. "Had it all been market-driven James Joyce would not have been a published author. And, Jorge Borges only managed to sell 300 copies of his first work."
The literature festival next year would focus on Tamil and Malayalam while there would be participation from the North East and other south Indian States, said festival director T.P. Rajeevan.
Next edition of South India Writers' Ensemble to focus on Tamil and Malayalam literature.
The river tent before the reading: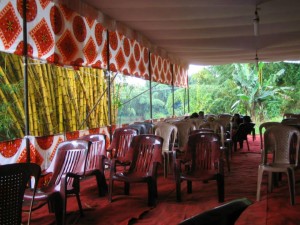 Poets doing poetry: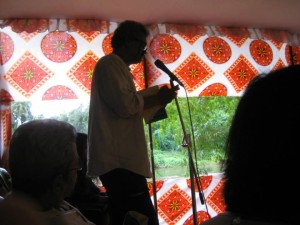 Me hawking my book: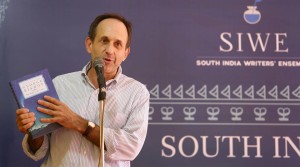 With superstar author Preeti Shenoy, writer/director Punkaj Dubey, and mythologist Vani Mahesh: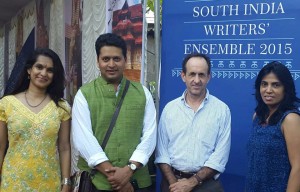 The writers collective at SIWE this year:
(Standing) Mithra Venkatraj, Preeti Shenoy, Manjiri Prabhu, Shinie Antony, Vani Mahesh, Saniya, Ambai, Malsawmi Jacob, Jayasree Kasaravally and Tulasi Venugopal.
(Below) Yuvan Chandrashekar, S Diwakar, George Bishop, Pankaj Dubey and Anjali Purohit.