I still quite like this cover on the Taiwan edition of LETTER TO MY DAUGHTER.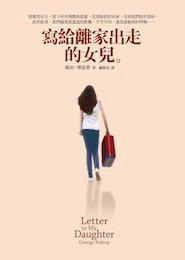 The holiday sale for the e-book continues for just a few more days. (English. Not Chinese.) Here are the links again: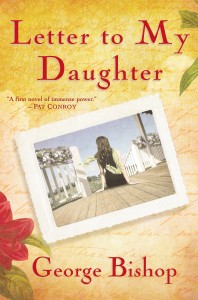 From Dec. 20 – Jan. 8, the e-book edition of LETTER TO MY DAUGHTER is just $1.99.
Thanks to Random House/Ballantine Books for this holiday promotion.
Available anywhere e-books are sold. Links below.
The two-week promotion for the e-book edition of LETTER TO MY DAUGHTER is available not just on Amazon. You can also get the e-book from Apple or Barnes & Noble. Still $1.99, or half the price of a pint of beer.
Here are links:
Apple iBook
Barnes & Noble
Amazon.com
Cheers!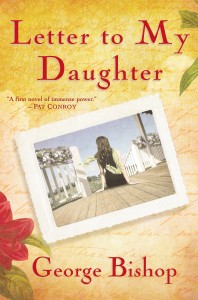 If you happen to be in Chennai (Madras), India, this Saturday, drop by the American Library at the U.S. Consulate, 10:00 a.m. I'll be reading and talking about various things.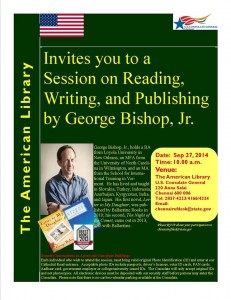 Here's the FB link:
Session on Reading, Writing, and Publish by George Bishop, Jr.
Thanks to the American Library at the US Embassy in New Delhi, India, for featuring Letter to My Daughter as one of their "Check It Out" picks.
Don't know if the American Library knows it or not, but I lived in India from 2005-2007.
Here's their summary and link:
Letter to My Daughter: A Novel
By George Bishop, Ballantine Books, ©2010
Elizabeth runs away from home on the eve of her 15th birthday after being slapped by her mother, Laura Jenkins, during an argument. While the parents are waiting for news of their daughter's whereabouts, Laura decides to write a letter to her daughter telling her the truth about how a girl grows up. She recounts her own forbidden love with a high school senior against her intolerant parents that resulted in her transfer to a Catholic girls' school. Find out what else the mother of a missing daughter writes in a book-length letter, written in a single night.
And here I am visiting a government college in, I believe, Kurnool, Andhra Pradesh, India: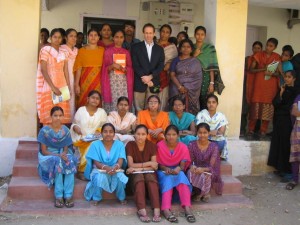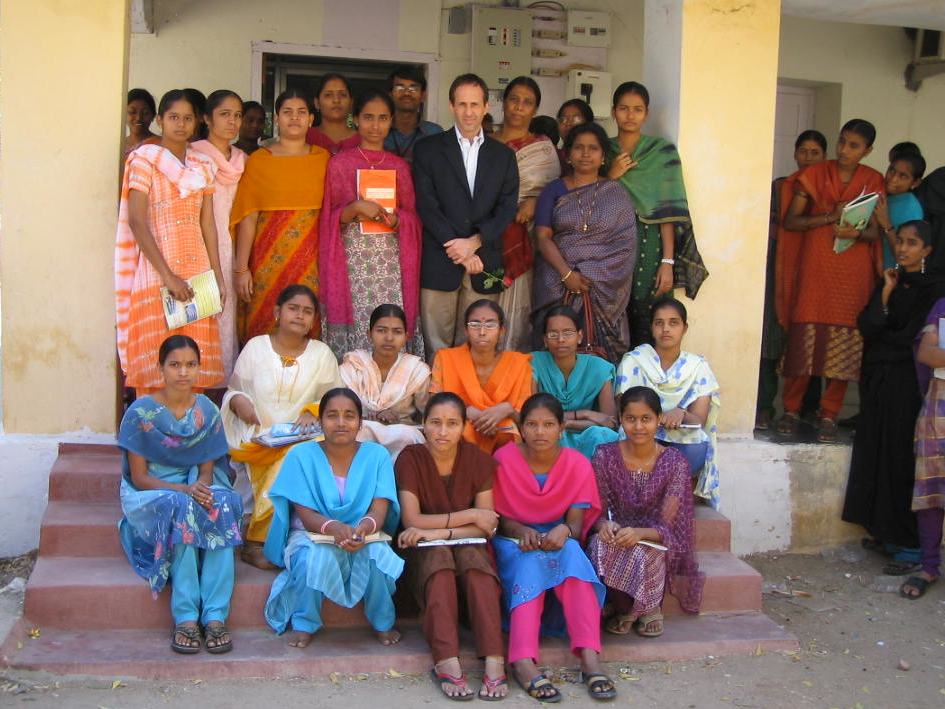 I'm looking forward to revisiting Jackson, LA, my boyhood home, for a book signing this Saturday at the annual Jackson Assembly Antiques and Art Show.
Jackson is a town of about 4,000 in East Feliciana Parish. It takes its name from General Andrew Jackson, who's said to have stopped there at Thompson's Creek on his way home after his victory over the British at the 1815 Battle of New Orleans.
Here, oddly, is the photo that Google spits up when you type in Jackson, Louisiana. I'd have to say it seems about right, though.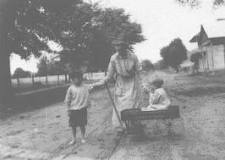 Jackson is also known as being the home of East Louisiana State Hospital, a large, plantation-style mental hospital that opened in 1848 as the State Insane Asylum. It continues to operate there today, although on a much smaller scale.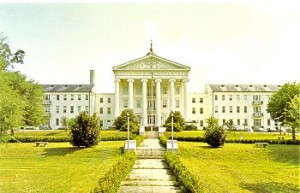 I'd normally recommend that book lovers patronize their local independent bookstore, but I see that the bargain price has returned for the hardcover edition of Letter to My Daughter on Amazon.com, and it's hard to beat: $8.00.
That's less than a pizza.  Also, you can read it again and again, but a pizza you can only eat once.
Here's the Amazon link:
http://www.amazon.com/Letter-My-Daughter-A-Novel/dp/B007K4JZOG/ref=pd_rhf_gw_p_t_1
Thanks to all the good people at Goodreads who are reading and recommending my book. Like Melissa, who recently wrote:
"I was a little iffy about picking up this book. I wasn't too sure that a male author could really write a book based on a female's point of view and make me want to read it.  I was completely surprised to find that Mr. Bishop did exactly that.  From the moment I picked this book up I couldn't put it down . . . "
Thanks, Melissa, wherever you are.