"When a comet appears in the Constellation Hydra, there is war and some conspire to overthrow the emperor. Fish and salt are expensive. Rice also becomes expensive. People hate life and don't even want to speak of it." (Record of the World's Change, Li Ch'un Feng, 602-667 AD)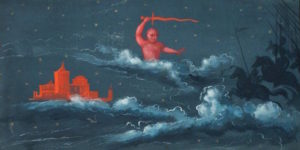 Image from Das Wundereichenbuch (The Book of Miracles), Augsburg, 1550
I've posted illustrations from the fantastic 16th century "The Book of Miracles" before. The manuscript is in the news lately because a new reproduction of it has just been published, with commentary, by Taschen Books. It got a write-up in the New York Review of Books a few days ago.
Briefly, The Book of Miracles was created in Augsburg (now in Germany) around 1550. The color illustrations depict "wondrous and often eerie celestial phenomena, constellations, conflagrations, and floods as well as other catastrophes and occurrences" (Taschen). Several comets appear in the book, which is why I happened to come across it. It reminds me of the old Ripley's "Believe it or Not!" series, only it's better.
Below are some images from the book that I've pulled from the Taschen website. Enjoy!